Wisdom Flow Yoga Teacher Trainings for 2013
Maui 200 hour Yoga Teacher Training – June  2013 Registration Form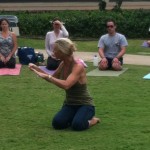 Join Jennifer Lynn and staff June 7 – 21, 2013 for fifteen intensive days of study and practice that will prepare you to teach with confidence and joy.  Our ocean-side studio include private courtyard with pool and many shady study areas.  A wonderful walking and swimming beach is a short walk away.  For off-island students that are rooms to rent in the complex.  Details outlined in your registration package. 808-268-4095.  Our trainings have been called the most intelligent, well-organized, empowering and fun-filled teacher training on earth!  You will enjoy lunch breaks on the beach, study sessions in the pool, buddy system practicum, learn through rhythm, song and poetry.  In an environment of relaxed playfulness you will find you are acquiring new knowledge with ease and pleasure.  Course fees are $2500 and include your Teacher Training Manual.  Click here to download registration form.
Special guest lecturers include P.T. Christie Newsom, Ayurveda Practitioner Uma Gal, Nutritional Counselor Danielle Ryan and more.
Advanced Teacher Trainings – 500 hour certification – three 100-hour blocks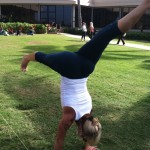 We offer three 100 hour Advanced Trainings to take 200 hr teachers to the 500 hour level.  The 100-hour modules run nine days covering two weekends and the weekdays between.   This makes it easier for you to take time away from your work week.  You do not have to commit to all three modules but you do need to complete all three within a two-year period in order to receive your advanced certification.  These advanced trainings are open to students wishing to deepen their practice but not pursuing an advanced level of certification.  However, you do need a strong knowledge base and the strength and focus to work with asana and alignment for three-hour stretches.  Accommodation options are available for those coming from off-island.  Download Registration Form
100 hour Adv Training – September  21-29, 2013
100 hour Adv Training – November   9 – 17, 2013
100 hour Adv Training – January      25 – Feb. 2, 2014
$990 each module
About our Teacher Trainings
Are you ready to become an excellent yoga teacher? Do you want to understand the heart-centered Tantric Yoga Philosophy and learn to weave it playfully into your classes? Are you interested in understanding intelligent alignment principles that make the practice therapeutic for your students? Would you like to be able to teach safe steady inversions and graceful vinyasa? Would you like to master clear, encouraging yet soothing voicing? If so, this training is for you.
This two-week training is intensive. We are together 10 hours each of the fifteen days and there will be homework every night. You will begin using your voice in leadership on the first day. Be prepared for total immersion as you step up to the next level of devotion to sharing this life-embracing practice.
This training is intended for intermediate/advanced yogis. We recommend you have at least one year of consistent practice (at least three days a week), know Surya Namaskar A and B, be able to recite and define the Yamas and Niyamas. When appropriate we are flexible on these requirements. Only fifteen students are chosen for each training. This keeps our trainings effective and the unity of the group deep and lasting.
Training Fee is $2500 for Maui (does not include accommodations)
To apply go to Teacher Training Registration Page. call Jennifer anytime 808-268-4095 for details and special arrangements