Upcoming Maui Retreats -  7-day Yoga SUP Retreat May 20-27, 2013
May 20 – 27, 2013  seven-day Yoga & SUP – Playful Nature Adventures
Each day begins with an early morning Yoga Session followed by a Nature Adventure.  Most days will include a Stand up Paddle session on the clear smooth waters of South Maui shore.  Other days will take us into the North Shore Jungle for waterfall hikes and green water swimming.  Maui's Sacred sites and rich cultural history will be shared as we explore the magic of this island. Snorkeling and Swimming with Dolphins (if we're lucky) is also on the agenda.  After morning adventures we return to our private grounds for Brunch by the pool followed by free time.  Afternoon adventure or presentation takes us into dinner.  See our Amazing Menu of Gourmet Healthy Food.  Sunset meditation then dance class, restorative yoga or story time.  For more details, see our Activity Schedule.  Fees cover everything but airfare.  $1990. Registration form  Local residents can join for a day ($125) or half-day ($75).  See our Activity Schedule to find the perfect day for you.  Pre-registration required.  Instructions in the Registration form.  Feel free to contact me with questions.
Feel free to call me!  808-268-4095 – Jennifer@WisdomFlowYoga.com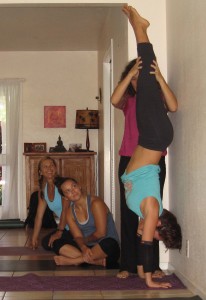 Wisdom Flow Yoga Workshops and Retreats are life changing. The safe, supportive, joyful family energy of our retreats create fertile soil for expansion. The challenging and invigorating vinyasa flow classes build confidence and heat for transformation. The cooling restorative classes ease away accumulated fear and tension. Our philosophy discussions, meditations and journal writing exercises bring clarity, purpose and power.
Based on Shiva/Shakti Tantra, our philosophy embraces desire as a natural creative impulse. Instead of denying desire, we clarify and purify our desires asking that they manifest in a way that serves our highest and offers betterment to the whole. We recognize that each soul's purpose is etched in joy – not suffering. That is, each person's offering unfolds as they trust and follow their natural talents and inclinations. The "work" we do is to artfully blend our nature
with our current conditions to find new and delightful ways to use our desires and powers to joyfully create greater health, beauty, abundance and connection. In our yoga practice this manifests as balance between precise therapeutic alignments and playful creative flow. We firmly believe what Abraham Hicks says: The only true gift we have to give is our own happiness and the only true measure of our success is the joy we feel.
We look forward to welcoming you into the fold of a Wisdom Flow Yoga Retreat or Workshop. Together we will feel the dance of our unique expressions blending to serve the Whole and the Whole rising up to support you in blossoming into greater fullness and glory.
To keep in touch about these and other Wisdom Flow Yoga events, join our email list by clicking the link in the left side bar.