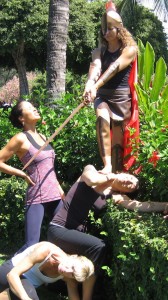 Playfully explore methods for moving your body back into its natural alignment to alleviate nerve impingement, disc compression, and other symptoms of "practiced misalignment".  No need for yoga props or fancy movement.  With a simple beach towel and household furniture you can create a 20-minute chill-out routine that – if practiced daily – will ease if not eliminate your pain.  Your body's design is brilliant.  But even a porsche can be poorly driven!  It is our unconscious habits that push our bodies out of alignment and into pain.  Learn to tune yours up, every night so you can cruise and enjoy a pain-free life.
Saturday November 3rd.  11 AM to 1 PM.  Everyone is welcome!  Kama'aina $35 – Visitors $45.  No need to pre-register.  We have plenty of room.
Hotel Wailea is located at 555 Kaukahi Street, Waile, HI 96753 – near Capische!
See you there!