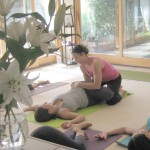 200 hour Program June 2013 ::  500 hour Program  September, November, January

Deepen your understanding of the power of Yoga as a tool for healing and inspiring.  Learn the sacred art of leading students in the weave of inner and outer journey.  Join us this June for Wisdom Flow Yoga 200 hour teacher training on Maui.  Wisdom Flow Yoga is a Yoga Alliance Registered School for both 200 hour and 500 hour level teacher trainings.  Wisdom Flow Yoga is devoted to offering playful empowering trainings that leave you feeling confident and eager to teach.  Our trainings include therapeutics, philosophy, sequencing, ayurveda, pranayama, meditation, music, business practices and more.  Our trainings have been called the most intelligent, well-organized, empowering and fun-filled teacher training on earth!  Only 15 students per class.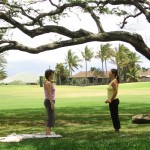 You will enjoy lunch breaks on the beach, study sessions in the pool, buddy system practicum, learn through rhythm, song and poetry.  Take a look at a Sample Session video.  In an environment of relaxed playfulness you will find you are acquiring new knowledge with ease and pleasure.  You will use your voice everyday, learn to speak with clarity, confidence, humor and kindness.  We cover practical therapeutics so you can respond intelligently to the special needs of your students.  To register for our June 200 hour Training, download the registration form.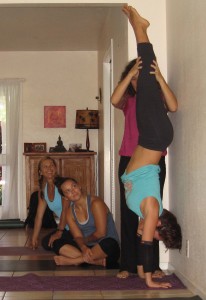 Core activation is present in every pose; you will learn to teach functional core strength to heal low back pain and take students to a new level.  You will have to tools to serve athletes and pre/post natal moms.  Special guest lecturers include P.T. Christie Newsom, Ayurveda Practitioner Uma Gal, Nutritional Counselor Danielle Ryan and more. Download Registration form.
In addition to our 200-hour program, we offer three 100 hour Advanced Trainings to take current teachers to the 500 hour level.  The 100-hour modules run nine days covering two weekends and the weekdays between.   Watch video of teacher training session.  This makes it easier for you to take time away from your work week.  You do not have to commit to all three modules but you do need to complete all three within a two-year period in oder to receive your advanced certification.
100 hour Adv Training – September  21-29, 2013
100 hour Adv Training – November   9 – 17, 2013
100 hour Adv Training – January      25 – February 2, 2014 – $990 each module
200 hour Teacher Training – June 7 – 21, 2013 – $2500 – early bird (by April 15th) $2200